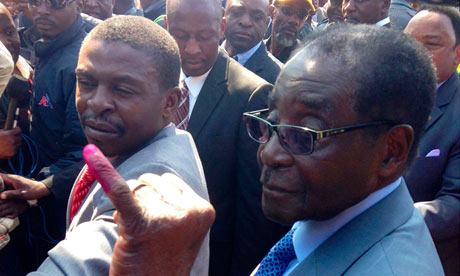 Robert Mugabe shows his finger after casting his vote
Zimbabwean President Robert Mugabe's party has won a huge majority in parliament in this week's elections, officials say.
With most seats declared, the Zimbabwe Electoral Commission said Zanu-PF had won 137 seats in the 210-seat chamber, just short of two-thirds.
Results in the presidential race have yet to be announced.
Mr Mugabe's main rival, Prime Minister Morgan Tsvangirai, has already dismissed the election as "a sham".
Mr Tsvangirai, 61, who heads the Movement for Democratic Change (MDC) and is running for president against Mr Mugabe, said the vote was "null and void".
A local monitoring group has also said that the poll was "seriously compromised".
However, the two main observer groups have broadly endorsed the election, saying it was free and peaceful.
Earlier reports from the Zimbabwe Electoral Commission (ZEC) said Zanu-PF had won 142 seats but this was later corrected following some recounts.
The AFP news agency reports that 186 seats have been declared with 24 results still to come.
If Zanu-PF clinches a two-thirds majority it will be able to change Zimbabwe's constitution.
Mberengwa North -ZANU PF wins with 15170 votes
Nyanga South-ZANU PF wins with 11752 votes
Zhombe-ZANU PF wins with 9850 votes
Nyanga North-ZANU PF wins
Mutasa North -ZANU PF wins with 10151 votes
Mutasa Central: MDC-T wins with 8947 votes
Mutasa South: ZANU PF wins with 8963 votes
Musikavanhu -MDC-T wins seat
ZANU PF wins Makoni North with 9412 votes
Zanu Pf wins Makoni Central with 7654 votes
ZANU PF wins Makoni South with 10268 votes
Zanu PF wins Headlands with 10975 votes
Chipinge South-ZANU PF wins
ZANU PF wins Chipinge Central with 12995 votes
ZANU PF wins Chipinge West
Gweru Urban MDCT 7755, ZPF 6146, MDC 578 ZEC
Beitbridge East-K Mohadi of Zanu Pf wins
DC-T wins Nketa Constituency with 7649