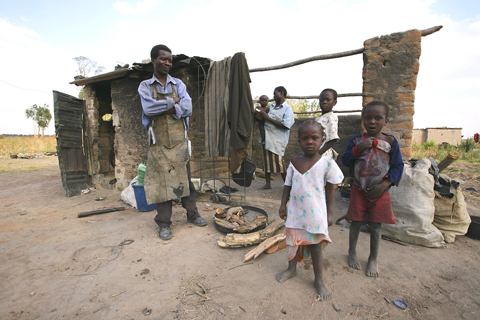 A cheating mother who sneaked out of her bedroom to have s*x with a neighbour at 4am was caught red handed by her husband. Linda Mbada, 22, left her bedroom at 4am and visited her s*x partner and neighbour Caleb Jasi leaving her husband Antony Nyerukai sleeping.
The cheater , Caleb, was thoroughly beaten yesterday in Epworth by a mob. According to Nyerukai, Linda left the bedroom without her panties after they had just had s*x and lied to him that she wanted to do some laundry. Caleb told H-Metro that he accommodated Linda with his wife's consent but their relationships does not go beyond the friend zone.
The alleged cheat Caleb was thoroughly beaten and Nyerukai forcefully marched Linda to his bedroom where he locked the door from outside. Linda escaped through the window leaving her three children, including a 7 months old baby whose cry alerted people of her absence. she sought refuge at Mai Patty's house. "Baba Patty and his wife gave space to Linda while they left the infant crying in the house and from that hour 4am until now 1pm she has not fed," one of the residents informedreporters.
"They left to attend a church service leaving Linda locked in their bedroom which implies they support her cheating acts. "We want to question them about that as residents," added one of the residents.
The despondent husband, Nyerukai told H-Metro that he was irked by Linda's insatiable s*xual appetite as they had had s*x before she lied that she was taking his trousers for washing. " I am still to believe what led my wife to have s*x with my neighbour after we had had s*x before she left the room to wash my trousers," said Nyerukai.
" Atobuda asina kupfeka bhurugwa akamonera mucheka and i fell asleep only to be awakened by the baby's cries, after which i then went to look for her outside. I wanted to inquire from my neighbour only to hear my wife achitochemerera and I forced the door open and found my wife akabata gotsi and they were busy having s*x half naked.
"Ndarwadziwa mumwe wangu and I dragged her to my house and locked the door from outside as i wanted to deal with Caleb first over his evil act. Linda broke the window and left the house during the scuffle with Caleb as people attacked them". I phoned her relatives but I have already taken her belongings to caleb's house and seized Caleb's generator and DVD player which he used to lure my wife with as she went there to watch videos, " said Nyerukai.
Caleb denied being caught bonking his friend's wife claiming she had come to collect plates for cleaning after she agreed with his wife Mai Mavis who stays in her rural home."Nyerukai believed rumours from from our neighbours leading them to attack me after he found his wife sitting on my bed as she wanted to collect plates for cleaning., " said Caleb. " We are friends and my wife left responsibility to her to cook for me and we never had s*x as what Nyerukai wants people to believe. " He demanded US$2000 and i had nowhere to get it before he seized my generator and DVD player over that payment. There is no way i could give him that money because he is not her parent and i did not rape his wife. " He is supposed to meet my medication bills after he led residents in assaulting me all over my body..
Linda could not give her side of the story as her aunt barred her from talking to the press. when reporters left the scene, Nyerukai was meeting his in-laws to discuss the way forward after residents forced Mai Patty to release Linda for "talks". Linda used to visit Caleb's house to watch videos and movies even during the absence of Caleb's wofe -Mai Mavis-raising suspicion to neighbours. Nyerukai was still holding on to the generator and DVD player which he suspected are the cause of Linda's illicit affair with Caleb.
Source: H-Metro